What is the Dave Weckl Online School?

An Encyclopedia of Dave...fully updated and always evolving.

Dave Weckl has spent a lifetime developing a sound and a style that has inspired drummers worldwide. Filmed in HD from multiple angles, with sound mixed by Dave, he uses the limitless space of the online environment to fully explain everything. Every nuance of technique, setup, musicality, tuning, and more, is presented and demonstrated as only Dave can do. And it's perfect for drummers of all ages and playing levels.



An Interactive Community that YOU Can Take Part In...
Your membership includes our PRIVATE Facebook group where Dave, his staff, and Artist Relations professionals from Yamaha, Sabian, Vic Firth, and Remo, will participate. Upload your videos and exchange feedback with Dave and other members. We'll occasionally run webinars where you can interact with Dave in real time.

Material That Goes Beyond Licks and Chops...

Dave is including full play along packages that he sells on his Web site. You can download charts and minus-drum tracks to practice to and use for new recordings. He's also filming lessons with musicians such as Tom Kennedy, Mike Stern, Oz Noy, and Dom Famularo. And he's filming tunes and drum solos during all of his tours, which he bundles with a lesson "from the hotel," and gives to you.

A Tool for Drum Teachers...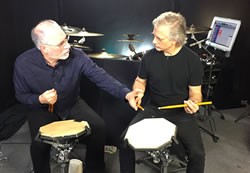 Dave's Affiliate Program pays teachers back for every student they bring in to the Online School. It's easy to get started, and all of the lessons in Dave's school provide endless material to work on with drummers of all ages. Teachers: once you sign up for the school, write to us to get things up and running.
Something Different. Something better...

There are plenty of YouTube videos and other sites that teach "licks" and fragments of drumming concepts. Dave wants to immerse you in the foundation of great drumming by passing on his knowledge and experience - the concepts and tools that have helped make him one of the world's great drummers.